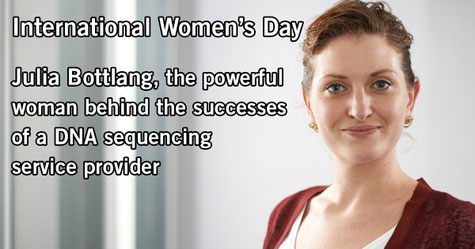 There was no shortage of enthusiasm! Julia readily put her busy schedules aside to make time for a lively conversation in honour of the International Women's Day.
Julia found her groove during the set-up of a Sanger sequencing laboratory in London. As a lab technician, she found herself willing to make decisions rather than constantly waiting for directions. This initiative did not go unnoticed. When Julia applied for the position of Head of NGS - Lab Automated Standards, she beat out an all-male applicant pool to land the job. To get to where she is, she believes young girls need to be encouraged to pursue their interests fully so that they can grow into confident women who are smart enough to recognise an opportunity and self-confident enough to take it. 
Her advice for women and also men who are after top jobs is to have full self-confidence in their education, experience, abilities and judgement. In her opinion, winning is in the self-esteem rather than the gender card and with enough practice, any employee can deal this winning card to themselves.